About the UN in Samoa
There are 15 United Nations organizations based in Apia that form the UN Country Team serving the Cook Islands, Niue, Samoa and Tokelau: FAO, ILO, UNDP together with UNCDF, UN Volunteers, the Global Fund and the Small Grants Programme, UNEP, UNESCO, UNICEF, UNFPA, UN Women, WHO, WMO, OCHA.
The UN Country Team in Samoa works collaboratively on joint development programmes to serve the people of Cook Islands, Niue, Samoa, and Tokelau.
Guided by the United Nations Pacific Strategy 2018 - 2022, the UNCT Samoa delivers integrated, country needs-based support and interventions around six thematic areas of development- i.e., Climate Change; Disaster Resilience and Environment Protection; Gender Equality; Sustainable and Inclusive Economic Empowerment; Equitable Basic Services; Governance and Community Engagement; and Human Rights. Over US$300 million has been invested by the UN to deliver on the expectations of the UNPS six thematic areas.
The implementation of UN programmes, are led by government ministries; in partnership with international and regional organizations, the private sector, non- governmental organizations, civil society organizations, faith-based organizations and the media.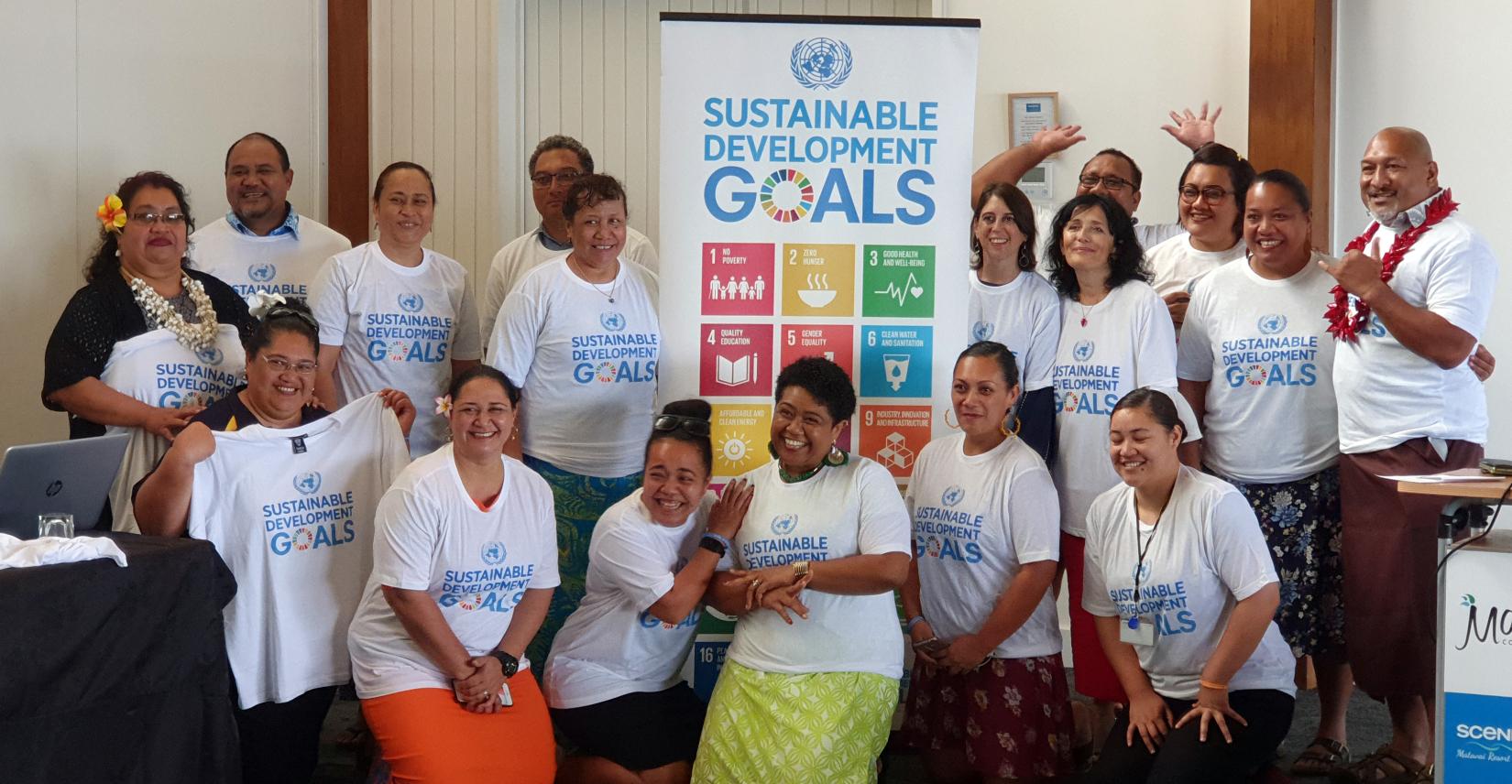 Milestones
1
Ending domestic violence: Samoa is one of the four countries of the Pacific region supported under the EU-UN Spotlight Initiative envelope of €50 million. Samoa's Spotlight Initiative programme strengthens existing commitments to end domestic and intimate partner violence. The UNCT Samoa will collaborate with the relevant ministries and Civil Society Organisations to deliver on the best practice to prevent and respond to domestic and intimate partner violence. The EU-UN Spotlight Initiative for Samoa will be implemented during 2020 – 2022 and it contributes to Outcome 2 -Gender Equality- of the UNPS and Goal 5 of the Agenda 2030 for Sustainable Development.
2
Samoa Knowledge Society Initiative: The UN has mobilised US$1 million from the India-UN Development Partnership Fund to initiate the Samoa Knowledge Society Initiative. It is a rights-based initiative that acknowledges the right to access to information for all Samoans contributing towards an enabling environment for enhanced digital development. The initiative will be implemented within 2020 – 2022 and will make a concrete contribution to UNPS Outcome 5 on Governance and Community Engagement and is aligned with Goal 16 -Peace, Justice and Strong Institutions- of the 2030 Agenda for Sustainable Development.
3
Social Protection :The UN has mobilised US$3 million from the SDG Joint Fund to initiate the Social Protection project for the Cook Islands, Niue Samoa, and Tokelau, which will support the four countries in all efforts to alleviate poverty and inequality through social protection systems that benefit all families. The initiative will be implemented during 2020 – 2022 and it contributes to Outcome 3 -Inclusive and Sustainable Economic Empowerment- and Outcome 4 -Basic Services- of the UNPS and is aligned with Goal 1 -No Poverty- of the 2030 Agenda for Sustainable Development.
4
Niue Marine protected areas: Forty percent of Niue's EEZ including Beveridge Reef has been declared a Large Scale Marine Protected Area in November 2018. Accordingly, resources from the Niue Ridge to Reef project, as well as other programmes have been directed towards implementing this work including relevant actions such as marine zones and policies to ensure that the declaration can be realised as soon as possible. Of the 14 villages on Niue, 12 have indicated a strong desire to establish community conservation reefs area in addition to the already established Namoui Marine Reserve.
5
Vaisigano Catchment Area (SAMOA): Approximately 26,500 people in the Vaisigano river catchment will benefit from upgraded infrastructure and drainage downstream, integrated planning and capacity strengthening, including planning for flooding caused by extreme weather events, and flood mitigation measures especially river works and ecosystems solutions in the Vaisigano River Catchment. The GCF-VCP is a 5-year project with funding of $65.7 million US dollars by the GCF and the Government of Samoa, supported by UNDP, which aims at strengthening target communities' capacity to adapt, build resilience and reduce exposure to flooding brought about by the impacts of climate change. This is Samoa's largest climate change adaptation project to date, and the first to be funded by the GCF.
6
A tobacco-Free Tokelau by 2020: The tobacco control policy "Tobacco-Free Tokelau by 2020" was also implemented through capacity-building for tobacco control and enforcement, and health education and awareness for health professionals, communities, border officials, and tradespeople.Tobacco Free Tokelau 2020 initiative has been pursued vigorously by Department of Health with support of UN agencies and South Pacific Community (SPC), though Tokelau may fell short of it's the 2020 target. Nevertheless, in 2018 Department of Health has received its UN-interagency award for accelerating actions to address Non-Communicable Diseases and risk factors, including tobacco smoking.
The Sustainable Development Goals in Cook Islands, Niue, Samoa and Tokelau
The Sustainable Development Goals are a global call to action to end poverty, protect the earth's environment and climate, and ensure that people everywhere can enjoy peace and prosperity. These are the goals the UN is working on in Samoa: