Our Team in Cook Islands, Niue, Samoa and Tokelau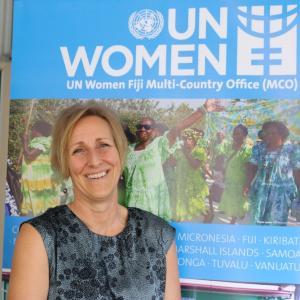 Ms. Sandra Bernklau
UN Women
Representative
Sandra was appointed Representative for UN Women Fiji Multi-Country Office in March 2019. The office covers 14 Pacific Island countries, and provides technical advice and support in advancing gender equality through four priority programmatic areas in the Pacific region. Prior to her appointment as Representative, Sandra was Officer-in-Charge under her role as Regional Technical Specialist. She has over 25 years of experience in the field of gender and human rights development work. Sandra has worked in Lesotho, India and Nepal, with the majority of her working career in the Pacific. Sandra has a Masters in International Development Education.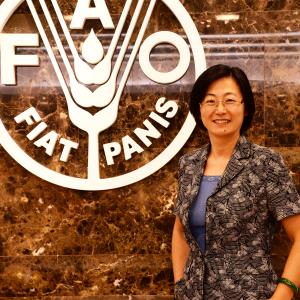 Xiangjun Yao
FAO
FAO Sub Regional Coordinator for the Pacific
Ms Xiangjun Yao (China) assumed her role as the FAO Sub Regional Coordinator for the Pacific in 2020. She oversees FAO's work in providing policy advisory and technical assistance to its 14 Member Countries to improve food security, income-earning opportunities in agriculture, fisheries and forestry, and increasing resilience of small farmers and producers in the Pacific. She joined FAO Headquarters in June 2011 and has held leading roles in several technical divisions/offices within FAO.

Ms Yao began her career at the Institute of Energy and Environmental Protection, the Chinese Academy of Agricultural Engineering in 1983, and as Director from 1998 to 2004. She served as Deputy Director-General of the Centre of International Cooperation Service, Ministry of Agriculture, China. She was also a Council Member of the China Energy Research Society and Evaluation Expert for Engineering Construction Projects authorized by the Chinese Ministry of Agriculture.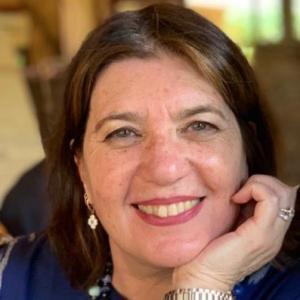 Dr Jennifer Butler
UNFPA
Diretcor, Pacific Subregional Office
Dr Jennifer Butler is UNFPA's Director of Pacific Island Countries, a position she assumed in April 2020. She has worked with UNFPA for fourteen years, serving in Headquarters with global leadership on HIV and key populations; as Regional lead on HIV in Eastern Europe and Central Asia; as Deputy Regional Director for Asia and the Pacific, and as Representative (OIC) in India and Country Director Bhutan (OIC); and most recently, Global Coordinator on ICPD 25 and UNFPA@50 with responsibility for coordinating and directing the Nairobi Summit on ICPD25: Accelerating the Promise.

She is an Australian national. She holds a PhD in Anthropology, held a Commonwealth Post- Doctoral Research Fellowship, and held senior posts in NSW Health, Australia prior to joining the United Nations.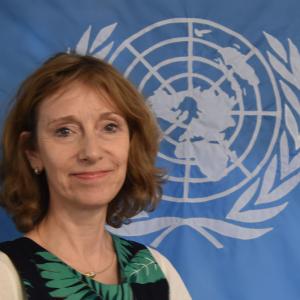 Heike Alefsen
OHCHR
Regional Representative for the Pacific
Heike Alefsen has almost 30 years of human rights, legal, political and development work experience with the United Nations, the Council of Europe and civil society. Until 2020, she was Senior Human Rights Adviser to the UN Country Team in Bangladesh and to the UN Development Group Asia-Pacific in Bangkok. As Deputy Head of the OHCHR Regional Office for South-East Asia, she established a country programme for Myanmar and coordinated policy and information of the Human Rights Council's special procedures at OHCHR Geneva.
She also served with the UN Division for the Advancement of Women and the UN Development Fund for Women in New York, as Council of Europe Representative in Bosnia and Herzegovina, and with Amnesty International's Legal Office in London.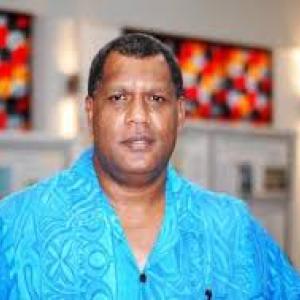 Henry Taiki
WMO
Representative
Mr Taiki ( Vanuatu) is WMO Representative for the South-West Pacific since 1999. He oversees and coordinates the work of the WMO with 17 Pacific countries and territories, including to build capacities of their National Meteorological Services, National Hydro-meteorological Services, and National Hydrological Services. He works very closely with SPREP for the development of weather, climate and water to support and contribute to sustainable development in line with the overall strategic direction of the Pacific Islands Meteorological Strategy 2017-2023.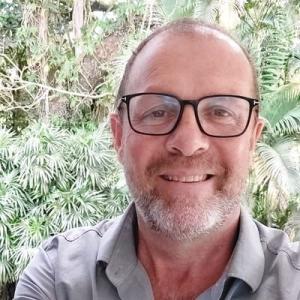 Jonathan Veitch
UNICEF
Representative
Mr Jonathan Veitch, a citizen of the United Kingdom, was appointed to the position of UNICEF Pacific Representative in August 2021 and is based in Suva, Fiji. As the UNICEF Pacific Representative, he oversees UNICEF's programmes and operations in the Cook Islands, Fiji, Kiribati, Marshall Islands, Federated States of Micronesia, Nauru, Niue, Palau, Samoa, Solomon Islands, Tokelau, Tonga, Tuvalu and Vanuatu.

Prior to this current appointment, Mr Veitch was the Deputy Director of the Private Fundraising and Partnerships Division at UNICEF, based in Geneva, responsible for the relationship with UNICEF's 33 National Committees. He brings with him extensive experience working on children's issues at the country and global level, especially in dealing with complex emergencies, peacebuilding and maternal and child health.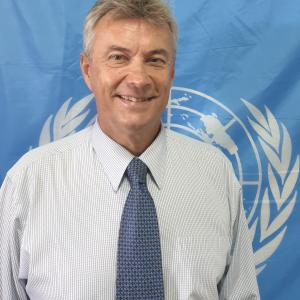 Jorn Sorensen
UNDP
Resident Representative
Mr Sorensen (Denmark) assumed his responsibilities as the UNDP Resident Representative in August 2019. He has 25 years of experience in international development, advisory and management. With 25 years of experience in international development advisory and management Mr. Sorensen has held various leadership position within UNDP including being the UNDP RR and UNDP Country Director in Sri Lanka, UNDP Country Director in India and UNDP Deputy Country Director in Nepal.
As the highest representative of the UNDP, Mr Sorensen leads UNDP programmes and those of its associated funds and programmes to ensure a significant presence and impact of UNDP interventions in making a difference in the Pacific people's lives and accelerating progress on human development.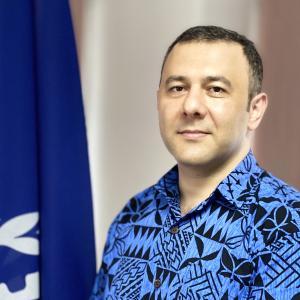 Matin Karimli
ILO
Director
As Director for Pacific Island Countries, based in Suva, Fiji, Matin is responsible for supporting eleven ILO member States (Fiji, Kiribati, Republic of Marshall Islands, Palau, Papua New Guinea, Samoa, Solomon Islands, Tuvalu and Vanuatu, Tonga, and Cook Islands). In addition, the Office also provides technical support to non-member Pacific Island States. Originally from the Republic of Azerbaijan, Matin was the Deputy Minister of Labour and Social Protection for 6 years prior to joining the office in Fiji.
Director ILO
Mr. Andrew Mcelroy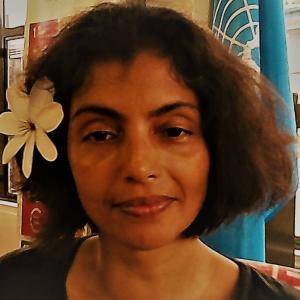 Nisha
UNESCO
Representative
As Director of Office and UNESCO Representative to the Pacific States since December 2016, Ms Nisha (India) leads UNESCO participation in the UN (Multi-) Country Teams based in Samoa and Fiji, and the UNCT in Papua New Guinea. With over thirty years' of experience in multisector development and humanitarian action, Ms Nisha has held leading roles in civil society organisations in India and internationally, inclding Oxfam GB, Christian Aid, UNDP, UNIFEM, ILO and UNESCO.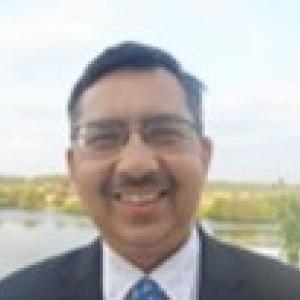 Subrata Sinha
UNEP
Officer in Charge
Mr. Sinha, a national of India, joined UNEP's Regional Resource Centre (a Collaborating Centre) in 2001, as Head of the Assessment and Reporting Unit, and the UNEP Asia and the Pacific Office in Bangkok in 2005, as Regional Environmental Affairs Officer. He has over 25 years of experience dealing with strategic policy and programme coordination and promoting south-south cooperation at regional, subregional, national and local levels in Asia and the Pacific. Mr. Sinha has been working actively with governments, intergovernmental bodies, local governments, major groups and other stakeholders, and UN organizations to implement projects and programmes as well as supporting the outcomes of the Forum of Ministers and Environment Authorities of Asia Pacific, UN Environment Assembly, Subregional Ministerial Forums and other regional and global processes. He has previously served as the Head for TERI's Centre for Environmental Studies in New Delhi, India. He holds a Master of Technology and Ph. D in Environmental Engineering from the Indian Institute of Technology (IIT-ISM), Dhanbad, India.