Press Release
WOMEN IN FISHERIES FORUM TAKES PLACE IN FIJI: WOMEN'S CONTRIBUTIONS TO THE BLUE ECONOMY HIGHLIGHTED
15 March 2023
14 March 2023, Suva – Fiji's Women in Fisheries Network (WiFN), in collaboration with the Food and Agriculture Organization of the United Nations (FAO) and the Pacific Community (SPC), organized the 3rd Women in Fisheries Forum on 13-14 March 2023 at Holiday Inn hotel in Suva, Fiji. This year's theme "Embracing equity" was timely as the world celebrated International Women's Day on 8th March 2023. The forum aimed at highlighting women's contributions to the blue economy and the challenges they face, as well as providing a platform for exchange and learning between fisheries practitioners, researchers, and fisherwomen.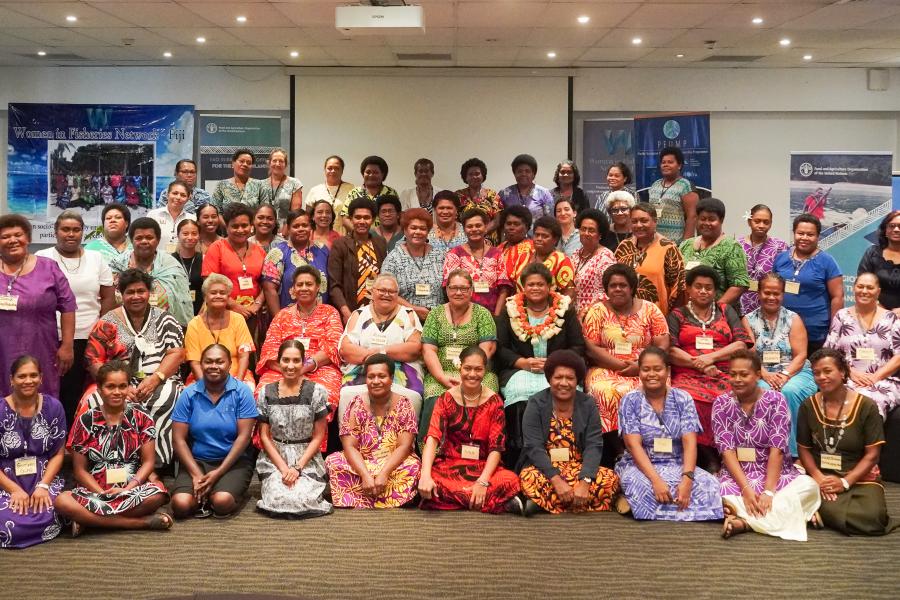 The Forum gathered more than 80 participants from relevant government agencies; civil society organizations, non-government and faith-based organizations; regional organizations, fisherwomen associations, academic institutions and other entities that play a relevant role in the discourse of gender and fisheries in Fiji. The event featured discussions, presentations, and networking opportunities aimed at identifying the needs and concerns of fisherwomen and advocating for their rights and continued empowerment.
While opening the Forum, Mrs Atelaite Rokosuka, Acting Permanent Secretary for the Ministry of  Fisheries and Forestry of Fiji, noted: "It is indeed timely that we convene and meet over the next two days. Such forums are crucial meetings to have because they give us all a chance to connect, stay informed, and talk about ways we can collaborate and support one another in the vital roles we each play in our communities and organizations."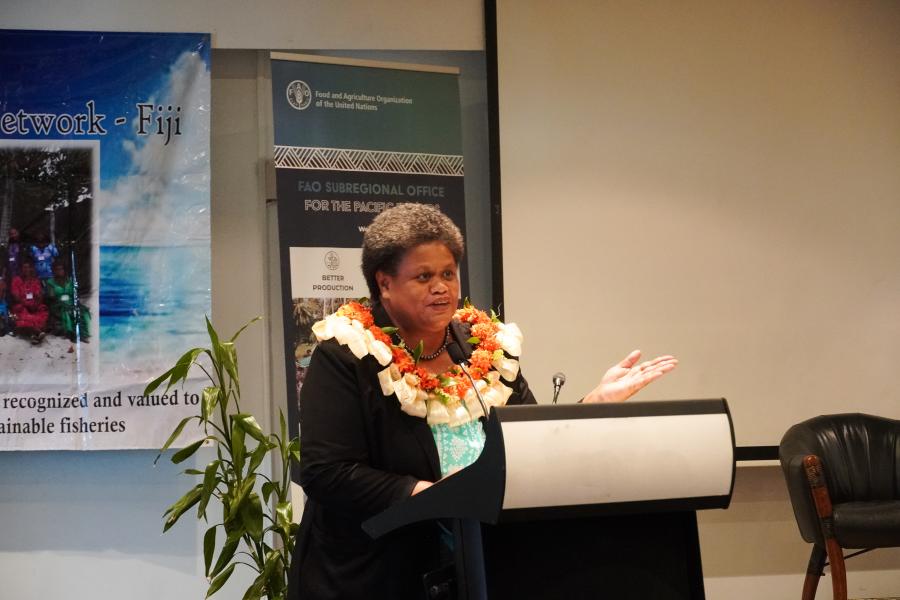 The Forum seeks to enhance the current conversation by creating a continuous platform for exchange, learning, and sharing. Its primary goal is to provide fisherwomen and women fish workers with a voice to express their concerns and needs to policy makers and development partners. Moreover, the Forum aims to facilitate fisheries practitioners and researchers in learning from the target audience, which can help increase awareness and knowledge of gender issues in the fisheries domain. This, in turn, can advance gender debates in the fisheries sector and allow governments to fulfil their overarching commitment to promote gender equity and equality throughout the entire government. Lastly, the Forum seeks to strengthen collaborations among agencies operating in the fisheries and gender space, with a focus on increasing partnerships, interdisciplinary work, and an improved understanding of gender issues in the fisheries sector from different perspectives.
Anne-Maree Schwarz, FAO SAP Gender Specialist stressed the importance of the Forum in promoting women's empowerment and gender equality in the fisheries sector: "Women play a crucial role in the blue economy and their contributions should be recognized, valued, and supported. The National Women in Fisheries Forum provides a platform to discuss the challenges that women fisherfolks face and to find solutions that promote their rights and well-being."
The Forum discussed four main themes. The first theme "Joining Men at the Blue Economy Table – Let's Boost Equity for a Sustainable Future" highlighted the need to address gender disparities in the fisheries sector and to ensure women's fuller participation in the blue economy. The second theme "Valuing Fisher Women's Indigenous Knowledge and Resource Management Practices for Community and National Well-being" emphasized the need to recognize and promote the unique knowledge and practices of fisherwomen in managing and conserving marine resources. The third theme "Challenging Governance Structures – Let's Hear It from the Women Fishers and Fish Workers" focused on the importance of gender-responsive governance in fisheries and the need to involve fisherwomen and women fish workers in decision-making processes. The fourth theme "Pandemics, Disasters, and Shocks: Women Leading the Way with Resilience and Innovation" showcased women's resilience and innovation in coping with crises such as pandemics and natural disasters, and associated economic shocks.
Unrecognized potential
People across the Pacific Islands region rely heavily on various fisheries to provide nutrition, employment, and economic growth. Coastal fisheries contribute approximately 50 percent of the total fisheries contribution in the Pacific Islands region. With human populations increasing, achieving proper management and governance of coastal fisheries becomes critical, particularly with the impacts of decreasing production of fish due to climate change, natural disasters and economic incentives. Women and men are actively involved in subsistence and income-generating activities along the coastal fisheries value chain. Women traditionally confined their fishing activities to coastal areas, primarily harvesting (e.g., reef gleaning), seafood processing, and food preparation for home consumption. However, women are now increasingly participating in economic opportunities such as marketing or small businesses that involve the harvesting capture and sale of marine resources. Unfortunately, the role of women in fisheries is often unrecognized, undocumented, or poorly understood, leading to their overall poor engagement in fishing activities and decision-making processes in coastal fisheries management.
"Empowering women in fisheries is not only a matter of gender equality but also a smart investment in sustainable development and food security for the whole community." – noted Mrs Xiangjun Yao, FAO Subregional Coordinator for the Pacific Islands.
Building on previous discussions
The Forum's discussion program was built on the outcomes of the second national Women in Fisheries Forum which was held in December 2018 under the theme "Rethinking Women in Fisheries Network –Fiji." Among the challenges identified in 2018, were the lack of disaggregated data and absent data collection systems, poor collaboration between key agencies and the ever-existing lack of recognition of the vast contributions of Fijian women fishers, post-harvesters and market sellers for food, livelihoods and wellbeing.
FAO's contribution
FAO's participation was organized under the Strengthening Small Scale Fisheries in the Pacific (Canadapt 003) project, funded by Global Affairs Canada and implemented by FAO, which aims to improve the resilience of coastal communities in Fiji, Solomon Islands, and Vanuatu. The project, aligned with regional commitments and FAO's strategic objectives, focuses on improving the management and governance of coastal fisheries, with a specific emphasis on gender equity. Canadapt 003 activities are designed in partnership with national fisheries agencies in each country and fall under three project outcomes, with intermediate gender outcomes identified in the project's gender strategy. The project involves partnerships with various organizations and stakeholders to align activities with related small-scale fisheries projects and enhance gender-sensitive approaches.
Contacts
Maryia Kukharava
International Communications Specialist
FAO Subregional Office for the Pacific
UN entities involved in this initiative
FAO
Food and Agriculture Organization of the United Nations