Press Release
The Food and Agriculture Organization (FAO) of the United Nations supports Samoa to better plan, predict and respond to food system crisis.
29 March 2023
A small handover ceremony was held between Samoa's Ministry of Agriculture and Fisheries (MAF) and the Food and Agriculture Organization (FAO) of the United Nations to acknowledge both the physical and technical support from FAO to combat rising commodity prices that affect Samoa's national food systems.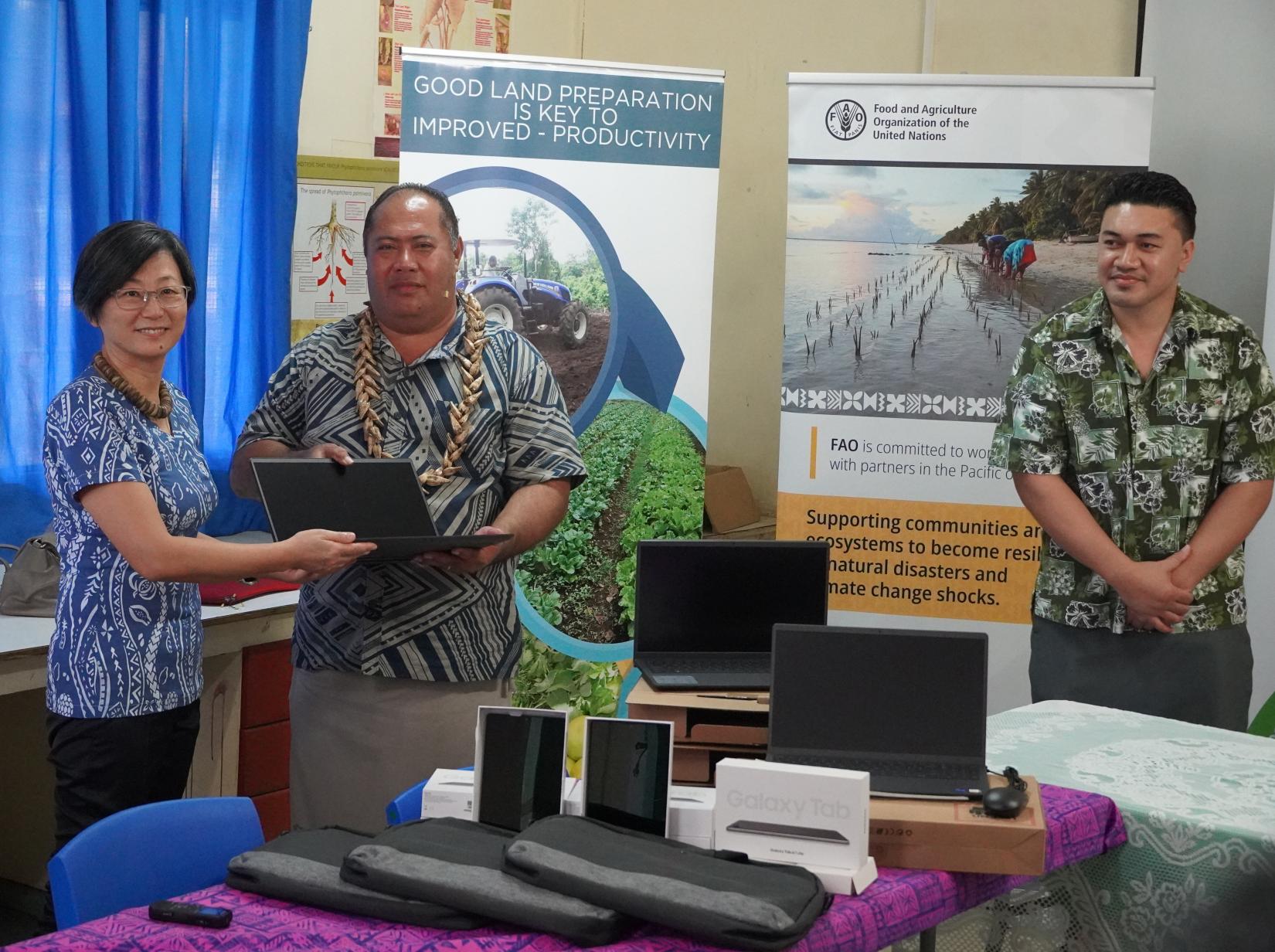 As part of FAO's and World Food Programme (WFP) joint project "5F Crisis" that monitors the rising cost of food, fuel, fertilizer, animal feed and certain finance statistics which aims to support participating governments in increasing their technical capacity to analyse, predict, plan and respond to the impacts of the global crisis of food, energy and finance on their national food systems.
FAO has developed the 5F Light Early Warning System (LEWS), which aids in this effort based on economic statistics such as the Consumer Price Index and key lead indicators such as the cost of fuel and animal feed and their impacts on food costs. The system helps countries better predict economic shocks, thus enabling more informed policy-making by governments in the region. FAO has trained representatives from the MAF Policy Division on the adoption of LEWS and handed over the matrix of indicators to ensure continuous monitoring of the 5Fs.
In addition, FAO also provided short-term physical assistance to MAF including laptops and tablets for monitoring the ongoing 5F crisis among MAF divisions, barbwire fencing for non-commercial cattle farmers, and vegetable seeds and local planting material for rural food security. These items will be distributed by MAF to communities at a later date.
FAO has provided similar training and physical support to the other nine participating countries in the region; Cook Islands, Federated States of Micronesia, Kiribati, Marshall Islands, Niue, Nauru, Palau, Solomon Islands and Tuvalu. FAO will continue capacity-building efforts with national governments around the region as they take over key 5F monitoring infrastructure that FAO has created.
"One of the strongest influences on the cost of food is the cost of fuel. Through this LEWS training, governments around the region now have a better understanding of how, and how soon, global fuel prices affect local petrol prices, and how and when petrol prices affect the cost of food. Similar forecasts can be made with other indicators such as the cost of fertilizer and animal feed as well as trends in remittances. Taken as a whole, LEWS is an effective tool for more informed policy-making by national governments", said FAO Subregional Coordinator for the Pacific Islands, Ms. Xiangjun Yao.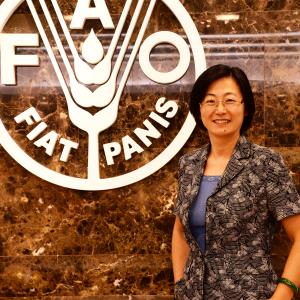 Xiangjun Yao
FAO
FAO Sub Regional Coordinator for the Pacific
Ms Xiangjun Yao (China) assumed her role as the FAO Sub Regional Coordinator for the Pacific in 2020. She oversees FAO's work in providing policy advisory and technical assistance to its 14 Member Countries to improve food security, income-earning opportunities in agriculture, fisheries and forestry, and increasing resilience of small farmers and producers in the Pacific. She joined FAO Headquarters in June 2011 and has held leading roles in several technical divisions/offices within FAO.

Ms Yao began her career at the Institute of Energy and Environmental Protection, the Chinese Academy of Agricultural Engineering in 1983, and as Director from 1998 to 2004. She served as Deputy Director-General of the Centre of International Cooperation Service, Ministry of Agriculture, China. She was also a Council Member of the China Energy Research Society and Evaluation Expert for Engineering Construction Projects authorized by the Chinese Ministry of Agriculture.

UN entities involved in this initiative
FAO
Food and Agriculture Organization of the United Nations